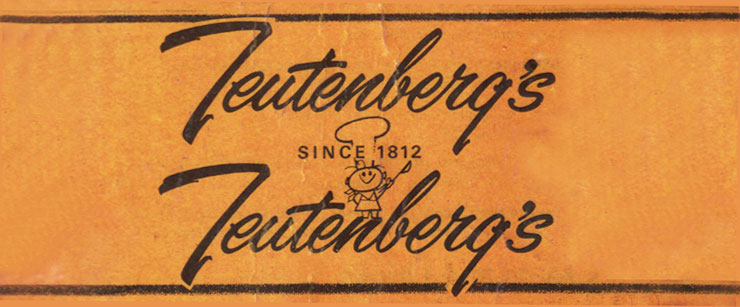 Teutenberg's
DEATHS
On Thursday, Aug. 30, 1900, at 10:15 a.m., Franz Teutenberg, at his residence, 2616 South Compton avenue, at the age of 86 years 9 months 29 days.
St. Louis Post-Dispatch, August 30, 1900
Francis (Franz) Teutenberg founded a bakery in St. Louis in the early 1830s. His family would continued to operate bakeries and restaurants in St. Louis for five generations.
According to his obituary in the St. Louis Post Dispatch (August 30, 1900), Teutenberg was born on November 1, 1813. His obituary in the St. Louis Republic (August 31, 1900) states he was born in Arnsbrg, Prussia and emigrated to the United States on June 13, 1834, when he was nineteen years old.
Teutenberg's birth year of 1813 is confirmed by a page from the U.S. Census, dated June 19, 1870, at which time his age was listed as fifty-six. That would have made him twenty years old in June of 1834, not nineteen. A subsequent St. Louis Republic article (September 3, 1900) states Teutenberg came to St. Louis in 1833, perhaps a correction.

Francis (Franz) Teutenberg
St Louis Republic, August 31, 1900
U.S. Census, June 19, 1870
(click image to enlarge)
When Francis Teutenberg retired in 1862, the ownership and management of his bakery business fell to two of his sons, Charles A. and Fred W. Teutenberg. When Charles died in March of 1934, his obituary in the St. Louis Post-Dispatch (March 28, 1934) stated he was the son of Francis Teurtenberg, who came from Germany and started a bakery "about 1840," a date approximating that reported in 1900. However, by the end of 1934, newspaper ads for the bakery had added the tagline, "Quality Since 1812."

St Louis Post-Dispatch, Nov 27, 1934
(click image to enlarge)
St. Louis Star and Times, Dec 14, 1934
(click image to enlarge)
Fred W. Teutenberg, Jr. was then president of Teutenberg Bakeries. He was featured in an April 19, 1935 St. Louis Star and Times article which stated his firm was celebrating the 123rd anniversary of its founding and that the "first bakery was started in 1812 at Second and Walnut streets by Francis Teutenberg upon his arrival from Germany."
"Since 1812" became Teutenberg's tagline and was front and center on all of their printed materials. The legend of Francis Teutenberg's 1812 bakery was carried forward throughout the decades by the media and codified by the St. Louis Chamber of Commerce, which recognized the company as the oldest continually operating business in St. Louis. No one questioned how a man born in Prussia in 1813 could open a bakery in St. Louis in 1812.
* * * * *
In 1962, Teutenberg's celebrated their 150th anniversary. An October 28, 1962 St. Louis Post-Dispatch article related that for all the firm's years in business, they had only a handful of mementos and souvenirs. Fred W. Teurtenberg, IV lamented, "All we can tell you of our history is word-of-mouth accounts."
The following history of five generations of Teutenbergs and their bakery business is gleaned primarily from newspaper articles filled with those "word-of-mouth accounts," plus a handful of artifacts. It's clear the bakery was not founded in 1812. But it's still a fascinating story, fact and fiction.

* * * * *
Francis (Franz) Teutenberg, the head of the Teutenberg family in St. Louis, was one of the pioneer German residents of the city. He was born in Arnsberg, Prussia in 1813 and emigrated to to the United States when he was 19 (or 20) years old. His ship landed in New Orleans on June 13, 1833 (or 1834), and perceiving the city to be overcrowded, he traveled up river to St. Louis, where he remained for the rest of his life.
When Teutenberg first came to St. Louis, pioneers still lived on the riverfront in log cabins and the extreme boundary of the city was Fourth Street. Trappers still came to the city and Indians crossed the river in canoes.
Teutenberg was industrious and immediately went into the bakery business. He opened a bakery at Third and Olive Streets (not Second and Walnut), which subsequently was moved to Fourteenth Street and Franklin Avenue. Teutenberg had remarkable commercial gifts and was popular with the other merchants in the city.
When he had amassed money enough to afford it, Teutenberg married Anna Marie Becker, a young girl who had come to St. Louis from Marnheim, Germany about six months before Teutenberg himself had arrived in the city.
Teutenberg retired from the bakery business in 1862 and moved out to his country residence, near Clayton, where the family remained eighteen years. He was quite wealthy when he retired and owned considerable property. He listed his occupation as "farmer" in the 1870 U.S. Census.
Francis Teutenberg died on August 30, 1900 at the age of 86. Five sons and one daughter died before their father and four children survived him – Fred W. Teutenberg, Otto Teutenberg, Charles A. Teutenberg and Mrs. Ida Geisel.
* * * * *
After Frances Teutenberg retired in 1862, the ownership and management of his bakery business fell to two of his sons, Charles A. and Fred W. Teutenberg. The original bakery at Third and Olive Streets moved to 1402 Franklin Avenue, although the exact date is unclear. An October 28, 1962 St. Louis Post-Dispatch article says it was in the 1840s and one from April 28, 1963 states the move was in the 1850s. However, according to "Help Wanted" ads in the Post-Dispatch, a tailor shop occupied 1402 Franklin Avenue until at least the spring of 1891 and the first mention of a bakery in the space was at the beginning of 1901.

St Louis Post-Dispatch, May 31, 1891

St Louis Post-Dispatch, January 22, 1901
The bakery at 1402 Franklin Avenue was next door to Eagan's saloon, which was at the corner of Franklin and Fourteenth. The bakery extended around the saloon in an L-shape, with a brick oven extending under Fourteenth.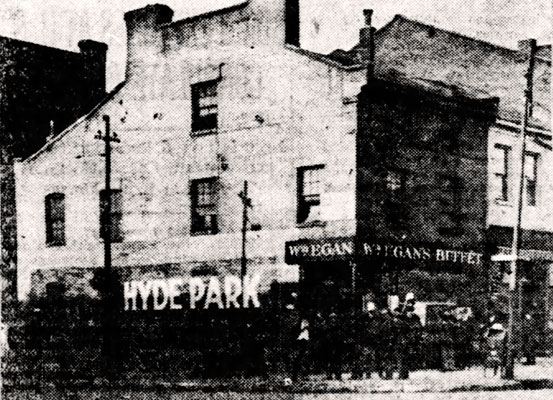 Egan's Saloon, 1400 Franklin Avenue
St. Louis Post-Dispatch, November 1, 1921
By the turn of the century, Fred Teutenberg's sons, Fred W., Jr. and Charles, had moved to the forefront of the family bakery business. While the Teutenbergs didn't pass on a lot of keepsakes, they did preserve many of their ledgers. A 1903 ledger gives an inkling of how the business was run.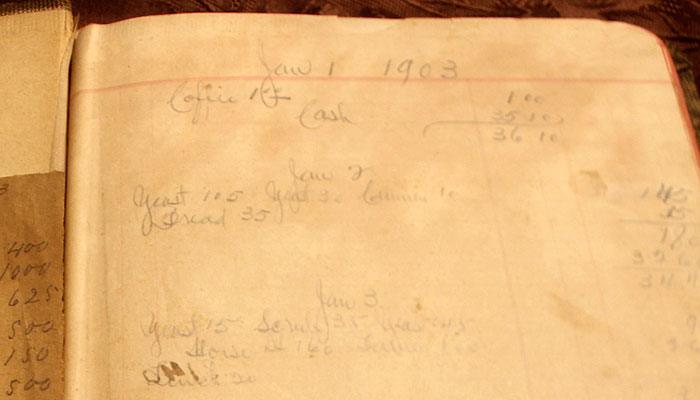 Teutenberg's 1903 Ledger
Each day they wrote down the money taken in and subtracted what they had spent. At the beginning of 1903, eggs cost 10½ cents per dozen and by the end of the year they were an inflationary 18 cents. Other notations recorded 5 cents spent for candles, an equal amount for soap and 40 cents for sawdust for the floor. A loaf of bread and a coffee cake cost a nickel for both, and if someone wanted only the bread, they received a token, good for half a nickel's worth later.
Much of the firm's trade came from German farmers who brought produce to the Biddle Street market and drooped in for coffee and steaming hot kuchen, fresh from the Teutenberg oven. Another service in early days was milk dispensing. The Teutenbergs picked up huge cans of milk at Union Station and customers brought in five-gallon containers, purchasing so many dippers of milk and so many dippers of cream.
The 1904 World's Fair brought hundreds of thousands of visitors to St. Louis, and the Teutenbergs added a complete second story restaurant to their bakery-coffee shop at 1402 Franklin Avenue to feed them. This endeavor was so successful that the Teutenbergs remained in the restaurant business.
By 1915, the Teutenbergs had opened a second location at 1510 Market, just west of the Municipal Courts building. It became a thriving coffee shop, which served plated lunches, and was a gathering place for lawyers and other officers of the courts.
Throughout the 1920s and 30s, the Teutenbergs continued to expand their bakery/restaurant operation. A page from their 1937 Yearly Report documents this expansion.

In 1925, the Teutenbergs opened a second Franklin Avenue location on the 1700 block. They also claimed a spot at the new Union Market.
The Union Market was built on the site of an old public market dating to before the Civil War. Construction began in 1924 and cornerstone laying ceremonies were in February of 1925. The market occupied a full city block, bounded by Broadway, North Sixth, Lucas and Morgan. Market stalls were restricted to the inside of the building, where market functions were separated into clearly ordered spaces, installed with the most up-to-date equipment for handling food products.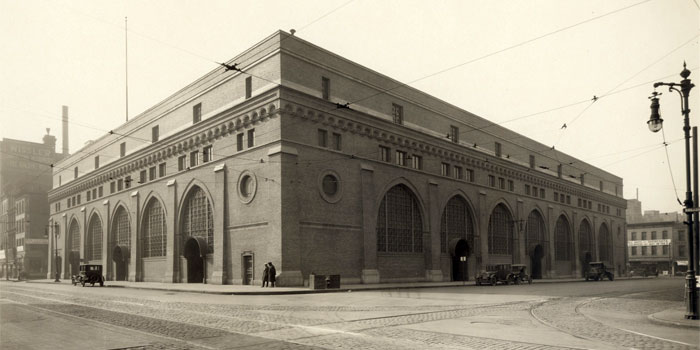 View of Union Market from Broadway and Morgan, 1925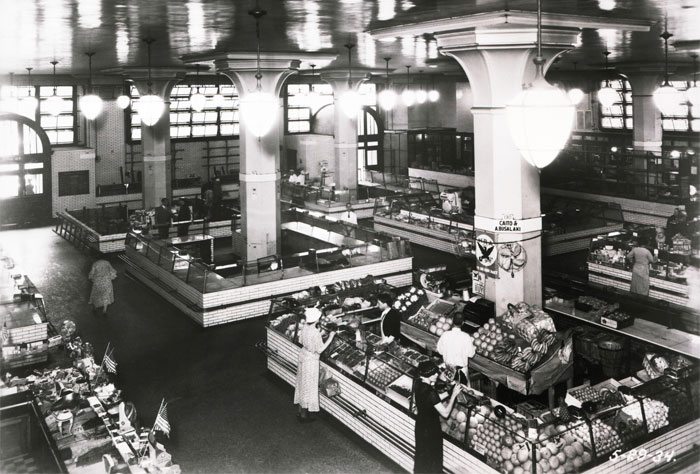 Union Market Interior, May 29, 1934
The Teutenbergs had a bakery stall in the Union Market when it opened in 1925, and added a doughnut stand a year later, which boasted the first automatic doughnut machine in the city. In 1928, Fred Teutenberg, Jr. hired Miss St. Louis to make doughnuts. The doughnut stand closed at the end of 1931, but the bakery stall continued on through the decades until 1981. The Union Market closed in 1989, when the building was converted to a Drury Inn.
In the 1920s, the Teutenbergs moved their headquarters up the street, from 1402 Franklin Avenue to 1412. The 1937 ledger shows sales at the 1412 address as of 1920, but it may have been grouping the two locations, as ads in the St. Louis Star Times suggest the 1412 location may not have opened until 1927.

| | |
| --- | --- |
| | |
| St. Louis Star and Times, Dec 16, 1926 | St. Louis Star and Times, Dec 15, 1927 |
By the 1930s, the family business was being run by Fred Teutenberg, Jr., with his sons, Jay and Fred, III. In 1931, they opened a bakery/coffee shop at 318 North Sixth Street in the Oriel Building, across from Famous-Barr. It was later enlarged into a tearoom. By the end of 1932, they had closed their once popular coffee shop at 1510 Market, and by the end of 1937, the 1716 Franklin Avenue location was closed.

In 1939, the Teutenbergs opened a bakery/restaurant at 714 Washington Avenue. Along with their bakery/restaurants at North Sixth Street and Union Market, and their headquarters/baking plant at 1412 Franklin Avenue, this gave them four locations.

| | |
| --- | --- |
| | |
| Fred W. Teutenberg, Jr. | St. Louis Post-Dispatch, October 24, 1940 |
By this time, the "Since 1812" tagline had taken on a life of its own. In addition to appearing in all of the company's ads and printed materials, the newspapers embellished it without question.

Few continental cakes have become so closely associated with the history of St. Louis as linzertorte, which has been made by generations of Teutenberg bakers. Brought here in 1812 by Franz Teutenberg, the cake was served in the coffee shop he operated at Second and Walnut streets, where it probably was eaten by Lewis, Clark, Senator Benton and other notables for whom the shop was a meeting place.
St. Louis Post-Dispatch, February 22, 1948
Not only was Franz Teutenberg not born until 1813, but Meriwether Lewis died in Tennessee in 1809.

Frederick W. Teutenberg, Jr. died on February 2, 1960 at the age of eighty-one. At the time, he was still chairman of the board of Teutenberg Bakeries and had been in the family business for 65 years. Leadership of the company fell to his two sons, Jay Teutenberg and Fred W. Teutenberg, III, and the latter's son, Fred W. Teutenberg, IV.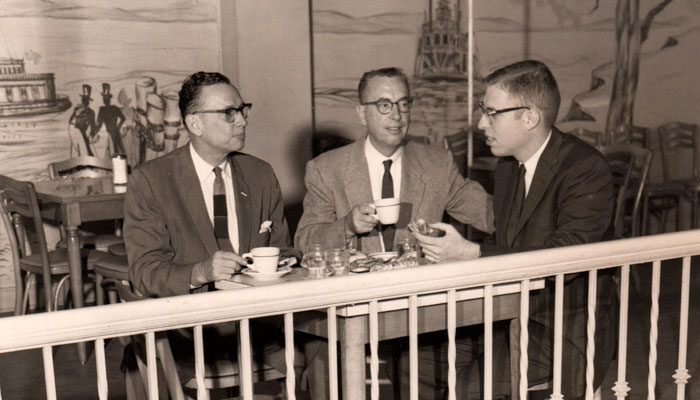 Teutenberg's, 714 Washington Avenue, October, 1962
From Left: Jay Teutenberg, Fred W. Teutenberg, III and Fred W. Teutenberg, IV
In 1961, the triumvirate closed their thirty-year-old bakery/restaurant at 318 North Sixth, across from Famous-Barr. Then in 1962, in celebration of their "150th anniversary as the oldest business in St. Louis," they built their first suburban coffee shop and bakery at Manchester and Sappington. The opening spilled over into 1963, becoming a "151st anniversary" celebration.


Teutenberg's, 10012 Manchester (architectural rendering)
The new Teutenberg's was part family restaurant, part bakery and "pleasant for the housewife who wants to go out to dinner, yet not so plush children won't be welcome." It had a counter for soda fountain customers and could seat 140 at tables. The décor included colorful murals depicting "old St. Louis." There was also a special children's menu.

In 1970, Teutenberg's celebrated the start of another decade with the opening of a new location in the Arcade Building at 8th and Pine, which emphasized fast luncheon service. Customers had two main requirements for lunch – quick service and moderate prices. Many customers were office workers who, in addition to lunch, wanted breakfast and pastries for coffee breaks. So Teutenberg's moved to self-service cafeterias which catered to those office workers.
By the end of the decade, the Teutenbergs had closed their coffee shop and bakery at Manchester and Sappington. "We decided we wouldn't be able to continue the level of service we wanted to provide in table service restaurants," said Fred IV. Instead, there were Teutenberg self-service restaurants at 412 Locust, 811 Pine, 505 North Seventh, in the Mercantile Tower, 801 North Eleventh and 111 South Bemiston, in Clayton. In addition, they still had their headquarters and bakery at 1412 Martin Luther King Drive (formerly Franklin Avenue) and their space in Union Market.
Menus now leaned toward light lunches, including sandwiches and homemade soups. Teutenberg's baked their own fresh pastries and their own buns, delivered to the restaurants twice daily. Five homemade soups were available each day, chosen from a recipe collection that numbered fifty.

The goal was to appeal to a wide business clientele. "Our customers include secretaries who want to spend $1.25 for lunch, as well as executives with clients," said Fred IV.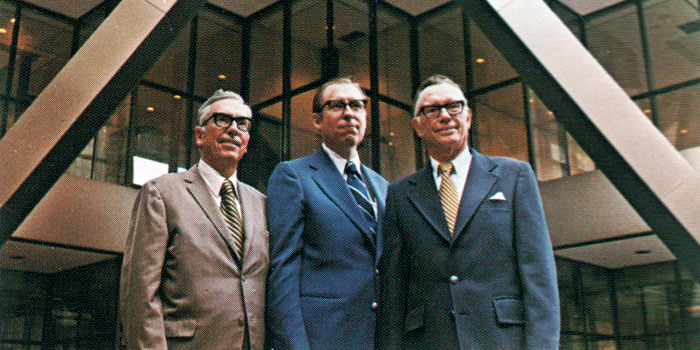 Fred W. Teutenberg, III, Fred W. Teutenberg, IV and Jay Teutenberg
adjacent to their Mercantile Tower restaurant, 1975
Fred W. Teutenberg, IV was now at the forefront of the family business, along with his father, his uncle and his younger brother, Robert. Winner of the Arnold Lien Prize in political science at Washington University, Fred IV gave some thought to being a lawyer, but decided he'd be happier in the family business.
In December of 1980, the Teutenbergs took over the Equitable Building coffee shop which had been operated by Anthony's. In 1982, they opened a restaurant in the 1010 Market Street building, which included a second-level mezzanine bar, overlooking the main dining area. The dining room had two food-service lines, one for those "eating in" and another for those "taking out."
By the start of the next decade, business had declined and the number of Teutenberg locations had dwindled. The company was hit with lawsuits from a landlord and various lenders. With creditors closing in, Fred Teutenberg, IV made the decision to close the last of his restaurants in 1991. "It was no longer economically viable," he said. "We couldn't go on."
* * * * *
In 2006, a sixth generation Teutenberg revived the family business for a short time. Joanne Teutenberg, the daughter of Fred IV, opened a downtown Teutenberg's at Olive and Seventh streets. The restaurant served breakfast and lunch. But the new Teutenberg's lasted only until the end of 2010. "We believe that the downtown climate has recently been tough on restaurants," Joanne Teutenberg wrote in an email. "With the coming of [Schnuck's Culinaria store], the economic troubles and the advent of the smoking ban, we felt the restaurant's location was no longer viable."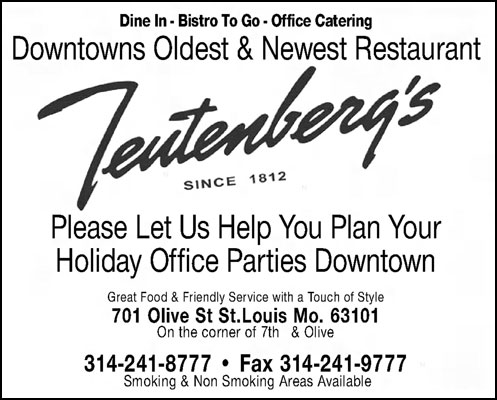 St. Louis Post-Dispatch, December 14, 2006

Teutenberg's, 701 Olive Street
* * * * *
After Fred Teutenberg, IV closed the last of his restaurants in 1991, he was forced to sell his family home in Ladue and move to a smaller house in Clayton. "It's fair to say we struggled," he said.
Teutenberg's wife of 42 years recalled the months after the restaurants closed as an introspective period for her husband. "It was time when he figured out he wanted to go in a new direction," Janet Teutenberg said.
About that time, cigarette outlet shops were opening across the country that took advantage of tax variances among neighboring jurisdictions to sell their products at a lower price. So in January of 1993, Teutenberg and a friend opened their first Dirt Cheap discount liquor and cigarette store in a strip shopping center in Fenton. Teutenberg appeared in television commercials alongside an oversized yellow chicken that chirped "Cheap, cheap, fun, fun" as he offered customers "the last refuge for the persecuted smoker."
"I like to smoke and drink," he told friends. He devoted the rest of his life to those vices.
* * * * *
Frederick W. Teutenberg, IV died on December 29, 2014 at the age of 75. It had been 23 years since he closed his last Teutenberg's restaurant, 180 years since his great-great-grandfather opened the first Teutenberg's bakery – and 202 years "since 1812."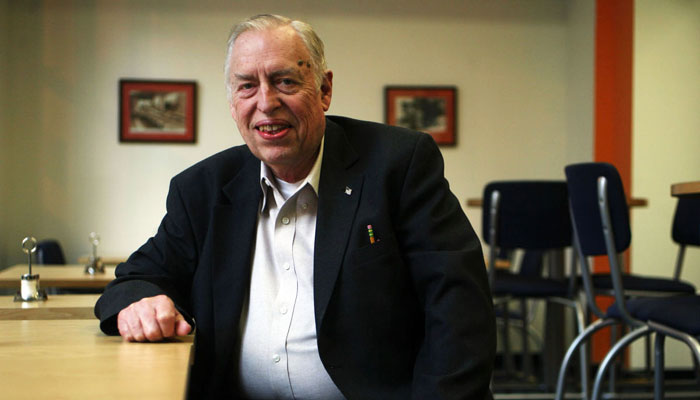 Fred W. Teutenberg, IV at Teutenberg's, 701 Olive Street, October, 2009
---
Copyright © 2017 LostTables.com