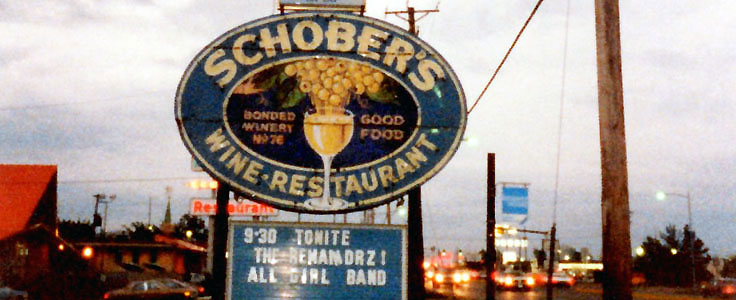 Schober's Wine Restaurant
In July of 1928, a young German by the name of Joseph Schober stood at the railing of the North German Lloyd liner Stuttgart as it neared the Port of New York. He brought to America his credentials as a master cooper, a few dollars in his pocket and the dream of owning a Weinstube like the one four generations of Schobers had presided over in his hometown of Bensheim.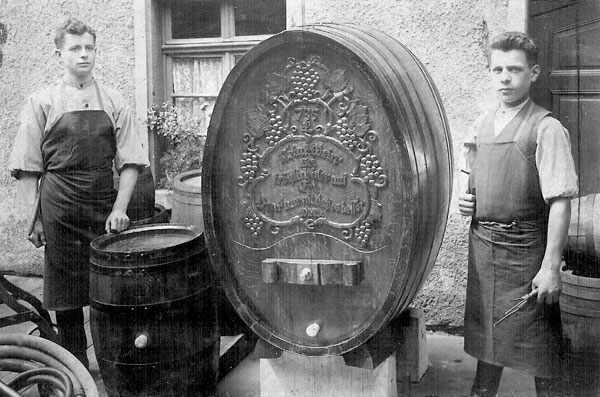 Joseph Schober (left), at age 16, in his father's Weinstube in Bensheim, Germany
"In America it is possible to make your dream come true," Schober reminisced in 1941, as he sat in his own Weinstube in St. Louis. "All you have to do is work hard, be a good citizen, pay your taxes and your bills, and not chisel anybody. On the fifteenth of July in 1928 when I got here to St. Louis, I had $12.50 in my pocket. Now I have this place. In Germany, I would have had nothing."

It was in 1926, at the age of 24, that Schober began thinking of leaving Germany for America. He had worked in the cooper shops of Cologne, Dusseldorf, Hamburg, Berlin, Munich and Luxemburg, and he had seen a Germany suffering under an overburden of taxes. There was unemployment and discontent, and there was little hope for better times.

"I was a good cooper," Schober boasted, pardonably. "I could make a 250-gallon barrel in one day, but there was no future for me in Germany."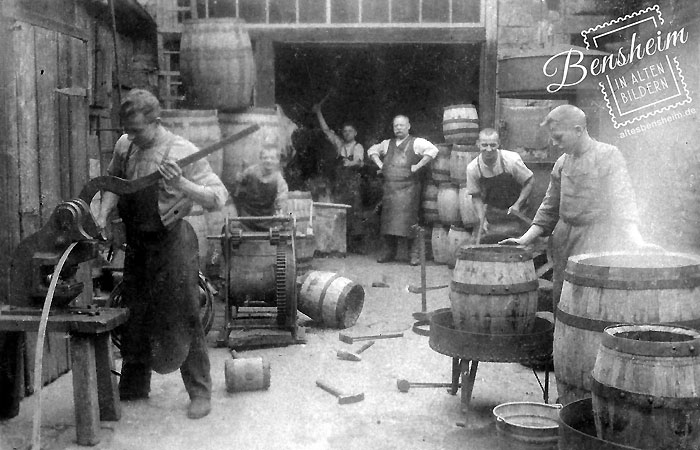 Cooperage workshop of Schober's father, Jacob Schober, mid 1920s
(Jacob Schober with mustache in background; Joseph Schober at left)
In the summer of 1926, young Schober came across an ad in a wine industry trade journal. An American was looking for a young German cooper who would be willing to go to a place in the United States called St. Louis.
That same night, Schober talked things over with his father. He pointed out there were no longer the same opportunities in Germany that there were when the old master-cooper was young. A young fellow could no longer hope to have a good business of his own.

"Most of the night we talked," Schober related, "and by morning it was decided. I would answer the ad."

Out of the 90 applicants for the job, Schober was chosen by the American and promised the job in St. Louis. But when Schober applied for a passport, he discovered the quota was closed for the coming year of 1927 and it was not until April of 1928 that his visa was issued.

"During the two-year wait, the proposition of that job fell asleep," Schober explained. "But I am a stubborn Dutchman. I thought if there is one job in St. Louis, there is also another one."

Schober was correct. He received the names of cooperage companies in St. Louis from relatives of his friend, Phillip Ohlemüller, who had come to America with him. Schober landed a job at Brueckmann Cooperage before sundown on the day he arrived in St. Louis.

After six months with Brueckmann, Schober moved on to a better job with Mangold Stave & Cooperage. Now 27 years old, he decided he was well enough fixed to send for a certain red-haired young beauty back in Bensheim by the name of Katharina Schachner. In 1929, Joseph Schober and Katharina Schachner were married.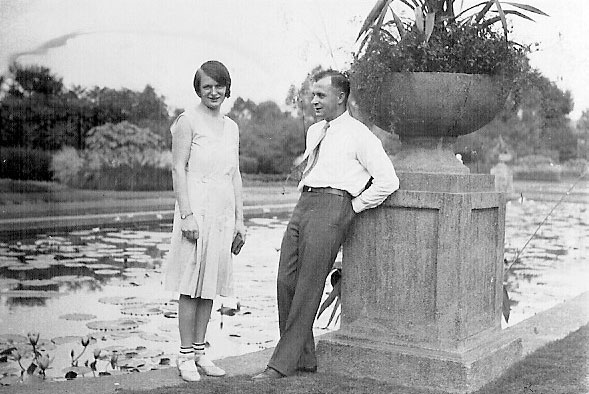 Katharina and Joseph - "Saturday afternoon in Shaw's Garden"
Soon after his marriage, Schober was elevated to the position of foreman with the Mangold company. When prohibition was repealed in 1932, he was in charge of recoopering the beer vats of such breweries as Anheuser-Busch and Griesedieck Brothers. But as early as 1935, Schober began planning for a business of his own. He saw the cooper trade becoming outmoded as steel containers began taking the place of wooden vats.

"I stayed on my job until 1937," he explained, "but I knew that the cooper trade was pretty soon ready for the funeral procession and I was not going to be one Dutchman marching slow behind the casket. Katharina and I counted up our savings and decided we would have a business of our own."

In Germany, under his father, Schober had learned the wine business. He had also been to winemaking schools at Geisenheim and had his diploma as a master winemaker. So in 1936, he applied to the United States government for a license to operate a bonded winery and opened up a small wine bar at 9900 South Broadway.

"Days I worked at the cooperage company and Katharina kept the Weinstube, and nights, when business was heavy, we both worked in our business," he explained. "But one night I said to myself, 'Joe, you are a dumbhead. You pay rent for this place out of your pocket. You should have a building of your own.'"

So once more the Schobers counted their savings, and in 1938 they purchased two and one-half acres of ground on Lindbergh Boulevard, just west of Leman Ferry Road. On Thanksgiving Day of that same year, Schober's Wine Restaurant and Bonded Winery was opened.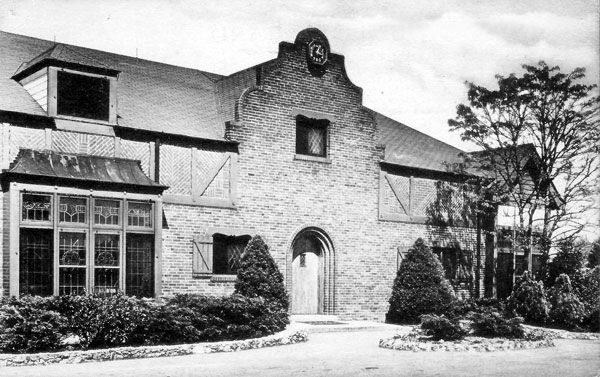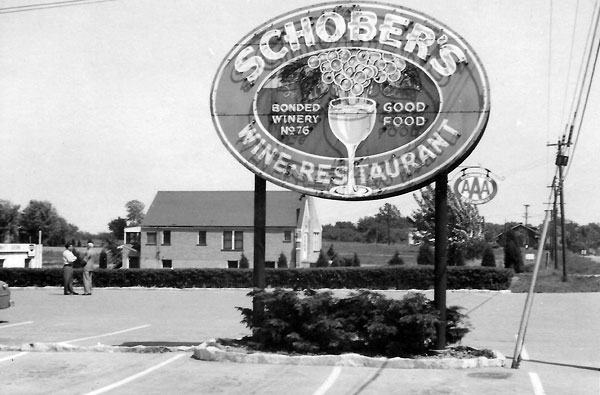 Schober's Wine Restaurant, 6925 South Lindbergh Boulevard
In the 1940 census, Schober listed himself as "proprietor" and Katharina as "cook." But Schober gave more than half the credit for his success to Katharina, who was eight years younger than her husband.
Schober's elegant dining room, with its stained glass windows, always had the smell of good German cooking in the air. Katharina's Hungarian goulash, with small potato dumplings, was a favorite and her recipe was featured in the St. Louis Post-Dispatch.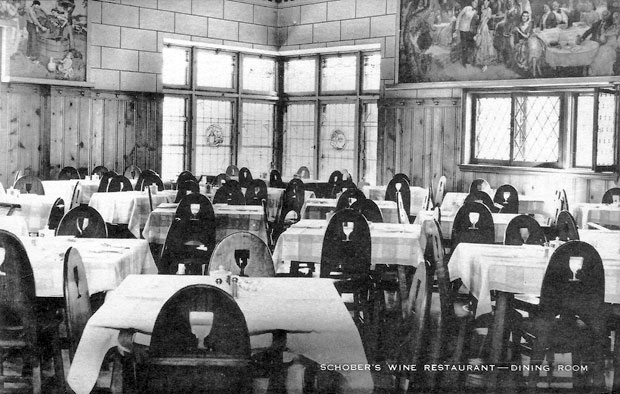 Schober's Dining Rom
Schober's offered traditional German cuisine, including potato pancakes, sauerbraten, Wiener Schnitzel, homemade bratwurst and homemade apple strudel. They served their wines by the gallon and half gallon.

| | |
| --- | --- |
| | |
| Joseph Schober, 1940s | Schober's Menu Cover |
In the summer of 1941, Schober built an outdoor garden next to his restaurant, which could seat 500. Patrons were wined and dined as they listened to a string orchestra play Strauss waltzes, just as Schober had in his father's Weinstube in Bensheim.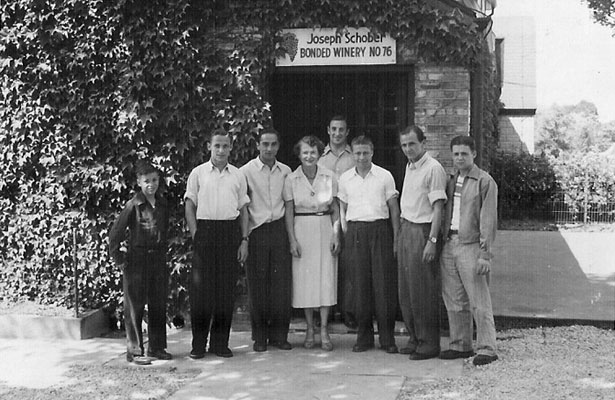 Katharina in Schober's "backyard"
By the end of 1941, Schober's had opened its Rathskeller, available for private parties.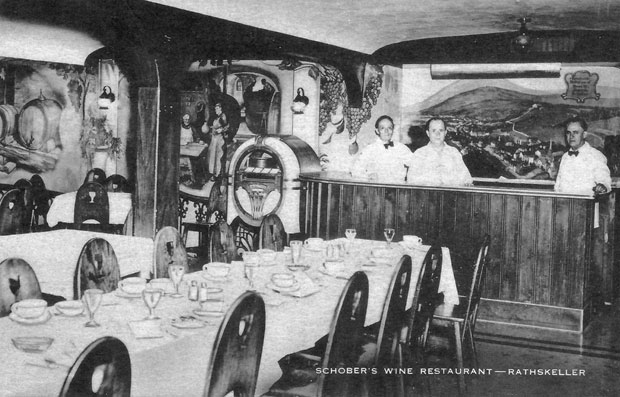 Schober's Rathskeller
Schober's sisters, Felicitas and Louise, immigrated to the United States before World War II. In the 1950s, Katharina's mother visited from Germany and, along with the Ohlemüller family, they all celebrated at Schober's Wine Restaurant.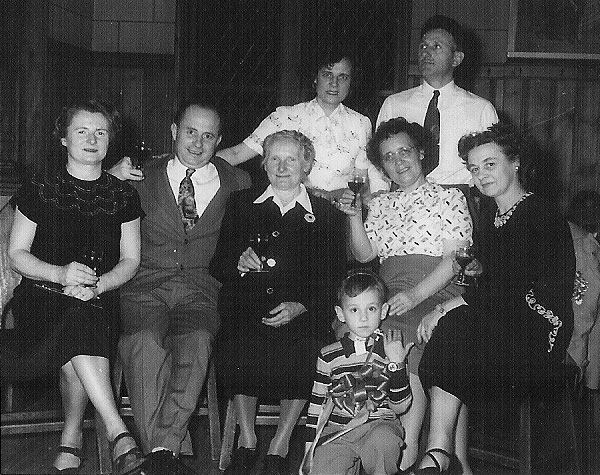 Katharina, Joseph, Mrs. Schachner, Felicitas, Louise (sitting),
Mr. and Mrs. Phillip Ohlemüller (standing) and son, Joe (kneeling)
Joseph Schober placed his annual holiday message in the St. Louis Post-Dispatch in December of 1959, wishing his friends and patrons a Happy Holiday Season. And then in 1960, he and Katharina sold their restaurant and moved to Highland Beach, Florida.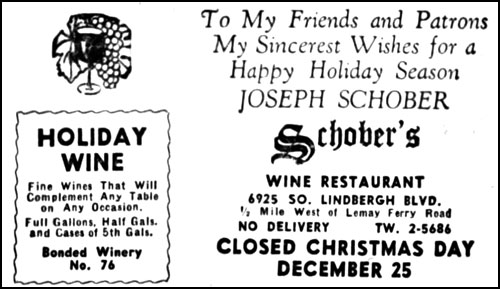 St. Louis Post-Dispatch, December 24, 1959
* * * * *
On October 10, 1960, Jack and Betty Chapnick assumed ownership of Schober's Wine Restaurant. Prior to that, the Chapnicks had owned Chef's Cafeteria at 214 North 7th Street.
The Chapnick's daughter, Marilyn, penned a recurring newsletter for the St. Louis Jewish Light "to let YOU know what is going on at Schober's, the people we see and the interesting aspects of our restaurant."
If you haven't been at Schober's in years, blot out that old image for it's even better now. Schober's has its own personality. The friendly, warm, cordial approach lets you know you're appreciated and recognized.

The food can't be forgotten, our main reason for being. It's terrific. You can now be adventurous and try the Wiener Schnitzel, Pot Roast, Special German Dinner and still know that quality steaks and fresh seafood are expertly prepared for those that wish the lighter Bill of Fare. The accompanying courses are equal in quality - homemade bread and rolls, hard stretched strudel dough - the extra attention given to these details by my family make the difference in a big meal and one well-remembered. Mother's special German Pot Roast was featured in the Post-Dispatch and has become a favorite.
Betty Chapnick
St. Louis Post-Dispatch
January 28, 1962
Marilyn Chapnick
St. Louis Jewish Light
April 17, 1959
Now take a look at the place. The bold purple canopy greets you when you enter, the larger German chandelier now shines down on perennial gaiety, the grape tree sets the mood for fine wines. The ability to pick the room that fits your mood: the Rathskeller, the Anton Room for public and private dining, and our Austrian main dining room.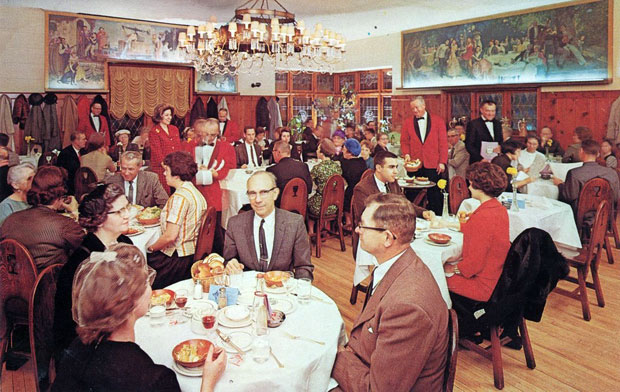 Schober's Austrian Dining Room
Our unique wine shop replaces the common bar. The wine maidens, who have received national recognition, escort you to our wine shop. You can select almost any popular cocktail in a bottle, or liquor for hi-balls. Our wine list now adds to our own fine wines the best from this continent and Europe. Our wine maidens, graduates of California Wine Board, help you make an exciting selection to offer your guests. Our Winery adjoins the restaurant and it's the only Winery in the area. The Oaken Casks and Wine Press are on display. Tours are conducted by the wine maidens.

St. Louis Jewish Light, October 16, 1963
The Chapnicks owned and operated Schober's for just over six years. Then, in her January 18, 1967 newsletter, Marilyn Chapnick wrote, "I must bid a fond farewell to Schober's Wine Restaurant since we sold Schober's last week."
* * * * *
In January of 1967, Richard Plotz became the the third owner of Schober's Wine Restaurant. Plotz was born and raised in St. Louis. He served in the Army Reserves, where he was trained in the Cooks and Bakers School at Ft. Leonard Wood.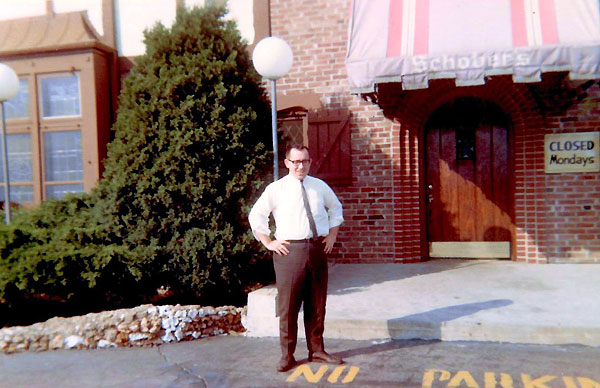 Richard Plotz, Schober's Wine Restaurant, 1967
In his July 24, 1974 St. Louis Post-Dispatch review, Joe Pollack described Schober's large dining room with its paneled walls and "slightly cobwebby" chandelier. The "old-fashioned paintings" were still high on the walls, and the tablecloths were now red, with white napkins.
The menu had kept its heavy German flavor, with a number of American standards. Appetizers included herring in sour cream ($1.50), shrimp cocktail ($1.95), onion soup or soup du jour (50 cents), cucumbers in sour cream ($1.25), crabmeat cocktail ($1.95), sweet and sour green beans (95 cents) and miniature bratwurst ($1.15).
German entrees included bratwurst ($4.25), Wiener Schnitzel ($4.95), sauerbraten ($4.95), Koenigsberger Klopse ($4.25), German pot roast ($4.95) and a German dinner of bratwurst, sauerbraten and pot roast with cabbage, potato dumpling and potato pancake ($5.95).
The opposite side of the menu displayed Hungarian goulash ($4.50), fried chicken ($3.75), chicken livers ($3.50), filet of sole ($3.50), fried shrimp ($4.50), scallops ($4.25), trout ($4.50), frog legs ($4.25), a fisherman's platter ($5.50), lobster tails ($8.95), T-bone ($5.75), strip sirloin ($6.95), rib eye ($5.50), pepper steak ($6.95), chopped sirloin ($3.75), filet mignon ($7.25) and a steak-lobster combination ($8.25).
When Schober's opened in 1938, South Lindbergh was a sleepy country road. As that changed and fast food competition populated the area, the German restaurant could no longer compete. Without fanfare, Richard Plotz closed Schober's Wine Restaurant after serving a packed house on New Year's Eve of 1981.
* * * * *
When Joseph and Katharina Schober sold their restaurant and moved to Highland Beach, Florida in 1960, they had intended to retire. Instead, they purchased land in Lantana, Florida on which they built a shopping center, which they operated until 1979.

| | |
| --- | --- |
| | |
| Joseph Schober visiting family in Germany, 1972 | The Schobers in Florida |
Joseph Schober died in 1984 in Highland Beach, Florida at the age of 82. Friends were asked to make contributions to the American Cancer Society, in lieu of flowers.
Joseph Schober and Katharina Schachner first met at a drinking fountain in Bensheim, Germany when they were young. As car traffic grew in the city, the fountain was removed. In 1989, Katharina donated a replica of the fountain to the city of Bensheim in memory of her husband.

Replica Fountain, Bensheim, Germany, 1989
(click image to enlarge)
Katharina Schober on her
90th birthday, 2000
Katharina Schober lived until 2004. The Schobers left behind the Katharina and Joseph Schober Foundation, which in 2015 made 26 grants and had a total asset value of $1,892,504. Not bad for a young German who had immigrated to America in 1928 with $12.50 in his pocket.

---
Copyright © 2017 LostTables.com