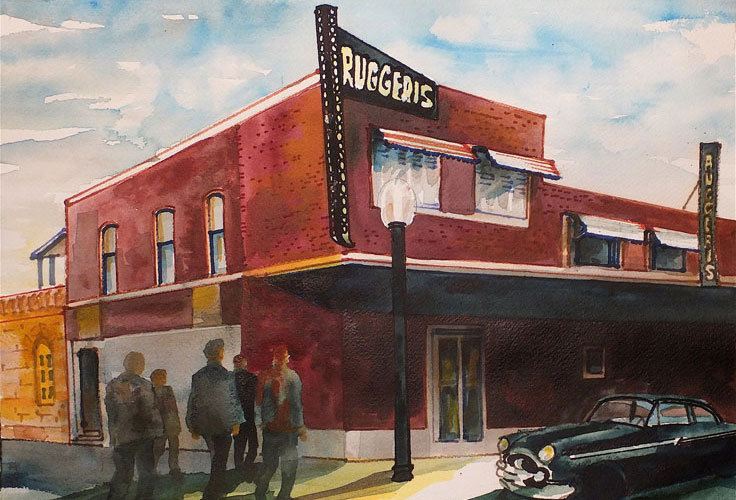 Watercolor by Marilynne Bradley
Ruggeri's
Antonio Ruggeri opened a tiny restaurant on Edwards Avenue just before the start of the 1904 World's Fair. It was colorful and bright, with red and white checkered table clothes and the latest in gas lights. When he died in 1927, his son Henry carried on the high standards and traditions set by his father, building Ruggeri's into an iconic restaurant that flourished for almost 80 years.
Ruggeri's Cafe, as the restaurant was called early on, had an outdoor garden featuring entertainment, as did many restaurants in those days.
Henry Ruggeri, probably the most businessman-like of all tavern keepers, is busy arranging his outdoor spot on Edwards street in the southwestern sector . . . Where he believes he's apt to stage floor shows three or four nights per week this summer . . .

St. Louis Star and Times, May 4, 1935
| | |
| --- | --- |
| | |
| St. Louis Star and Times, August 29, 1934 | St. Louis Star and Times, June 18, 1935 |
But as business continued to boom, Ruggeri was forced to cannibalize his Garden and enlarge the restaurant.
Completely remodeled and greatly enlarged, the famous Henry Ruggeri's restaurant at 2300 Edwards street will greet its patrons with newly designed exterior and interior in the modern manner. Walls and ceilings have been treated acoustically to lessen sound and many comforts and conveniences have been added. The cafe itself, known for its steak dinners and other culinary delights, has been remodeled and made more spacious and two bars have been installed.

St. Louis Star and Times, December 10, 1937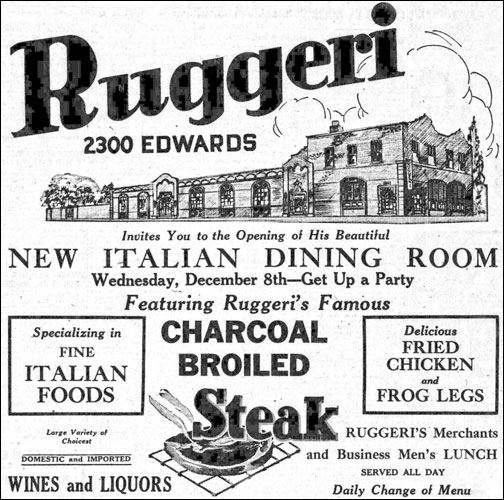 St. Louis Star and Times, December 7, 1937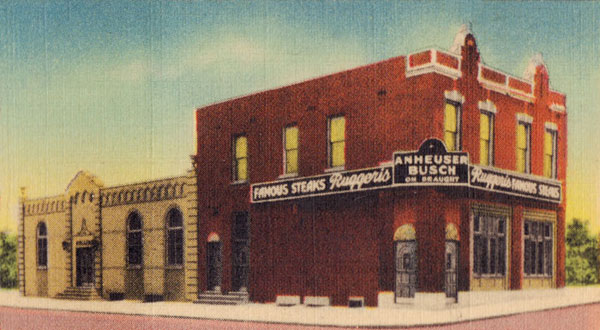 Ruggeri's Exterior, early 1940s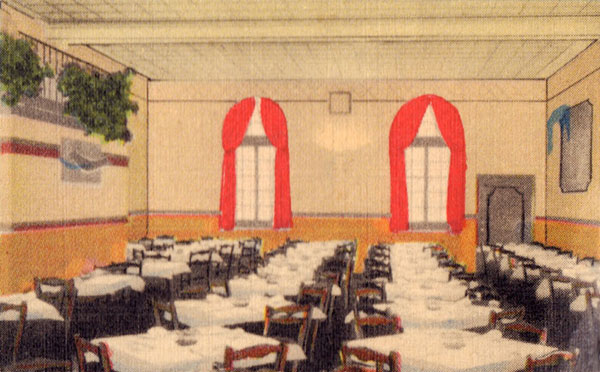 Ruggeri's Dining Room, early 1940s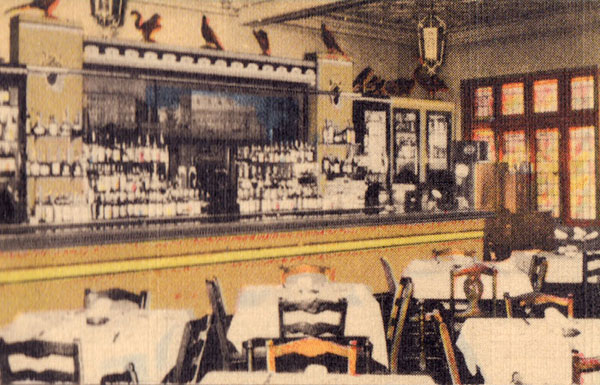 Ruggeri's Bar, early 1940s
Henry Ruggeri became a respected member of the community, holding forth at his restaurant with opinions and prognostications.
One of our citizens who can speak on both sides of any topic is Henry Ruggeri, Edwards street restaurant magnate. Henrico, a patient listener, is called on to hear various views of lonesome diners several times per evening, winding up with several opinions on every subject . . .

St. Louis Star and Times, October 17, 1941

Henry Ruggeri, restaurant operator, golfer and baseball rooter, advises Cardinal fans to watch for the arrival of a new catcher, Joe Garagiola, a 16-year-old neighbor measuring 5 feet 10 inches, weighting 175 pounds and catching for the Springfield (Mo.) Cardinals at the moment. The lad can't miss, states Senor Ruggeri . . .

St. Louis Star and Times, January 12, 1942
In 1945, Ruggeri was once again forced to enlarge his burgeoning restaurant.
Enlargement and remodeling of Ruggeri's Restaurant, 2300 Edwards St., now under way will be completed about June 1, according to Henry Ruggeri, owner and manager. The restaurant established 27 years ago by Anthony Ruggeri, will be doubled in capacity and its quarters will be modernized.

A one-story brick structure housing a 53-by-32-foot dining room, is being built at the rear of the present structure on a lot held by the Ruggeri family for many years.

The new dining room, to accommodate about 200 persons, will adjoin the present dining room. Removable draperies will separate the two rooms when a private dining room is desired.

Modernization plans call for mirrored walls, heavy drapes and modernistic decoration. Improvements will be made in the kitchens, where Ruggeri plans to install more specially-built stoves which he designed for charcoal broiling.

St. Louis Star and Times, January 12, 1942
| | |
| --- | --- |
| | |
| St. Louis Post-Dispatch, March 20, 1941 | St. Louis Post-Dispatch, August 14, 1945 |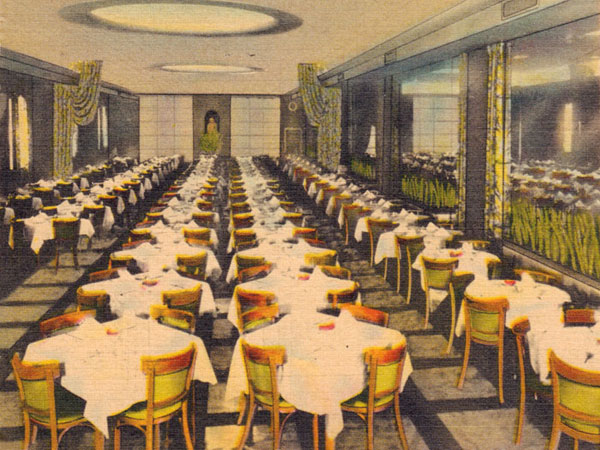 Ruggeri's Dining Room, circa 1950
Henry Ruggeri and his wife Erminia lived above the restaurant at 2300 Edwards on the Hill. Henry (the Chief) ran the floor and Erminia (Mama Minnie) did the kitchen. Minnie's mission in life was to see the waiters – her "kids" – married off. Mama Minnie cooked for her kids on Sunday and the Chief took the waiters, busboys and their dates to the Chase or to Sportsman's Park. Many of the waiters started as bus boys and remained at the restaurant for over 25 years, including Joe Garagiola's older brother Mickey and Yogi Berra's older brother John. Mickey started out as a busboy and dishwasher in 1936, moved up to waiter in 1940 and came back after the service until the restaurant closed. At Ruggeri's urging, Yogi took an off-season job as "greeter" in 1949. He even wore a tux!

The Chief knew all of the policemen and doormen around town; he fed most of the police department. By "taking care" of the doormen at the hotels, he built his business.
Ruggeri's was known for their charcoal broiled steaks, their seafood and their authentic Italian dishes. They were also renown for their toasted ravioli.
Mickey Garagiola was sitting at the bar at Oldani's restaurant in the early 1940s the night toasted ravioli was invented.
After our shift at Ruggeri's, the waiters would go to Oldani's place because he stayed open late. The cook Fritz accidentally dropped a couple of boiled raviolis into the deep fryer. He was so mad he dumped the whole pot into the hot oil. He sent the "toasted" ravioli to the bar as complimentary appetizers. The rest is history. Ruggeri's added the melted butter and Angelo's started the meat sauce.
Anybody who played St. Louis knew Ruggeri's. Rosemary Clooney, Robert Young, the Cisco Kid, Rocky Marciano. Broadcasters (Jack Buck, Harry Caray, Vin Scully) and ballplayers ate at Ruggeri's. Most of them stayed at the Chase in those days; Hack, the maitre d' at the Tenderloin Room, would send them over. KMOX personality Jack Carney was a house favorite. He would order a bottle of wine and never drink a glass; he'd offer the wine to the waiters on the floor. The next day on the air, Carney would crack jokes about the waiters at Ruggeri's drinking the customers' wine.
Mickey Garagiola recalled a celebrity who was turned away.
The Chief usually locked the doors around 11. Frank Sinatra was playing the Arena with Tommy Dorsey. "Peanuts," a friend who followed the big bands, came banging at Ruggeri's about 11:30 and told the Chief, "Hey, I got Frank Sinatra with me and we want something to eat." The Chief said, "Frank Sinatra? He's nothing. Go down to Slay's, he's open late."
In 1955, Henry Ruggeri again enlarged his restaurant, doubling its size and adding new kitchen and dining facilities. Capacity was increased to 650 diners.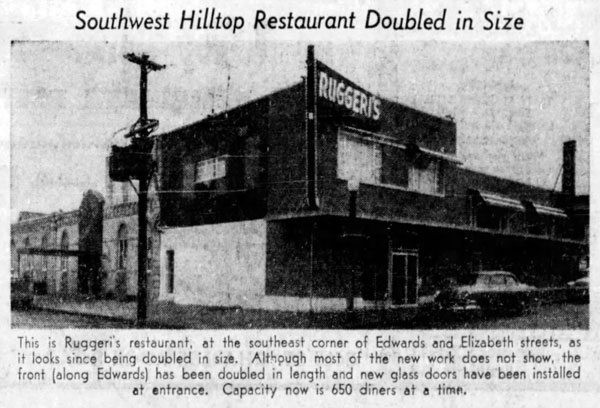 St. Louis Post-Dispatch, December 4, 1955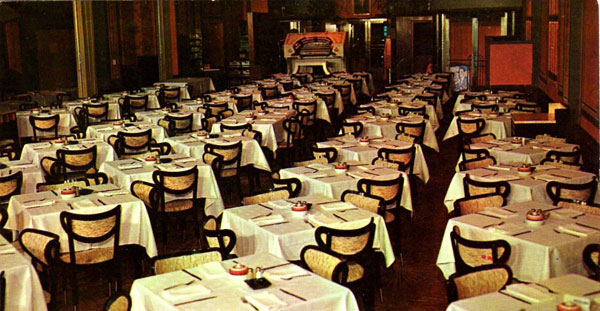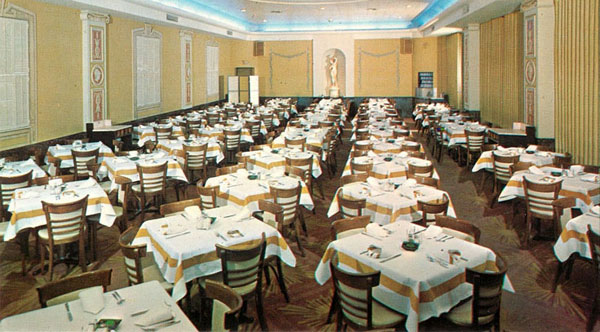 Ruggeri's Main Dining Room
On December 29, 1956 Stan Kann debuted at Ruggeri's playing the organ. Kann had purchased a huge pipe organ that had been at the Loew's State Theater since 1924. The organ was compacted into two 25-foot-square basement rooms of the restaurant, with the 16-foot pipes curved to fit under the eight-foot ceiling. An organ company in Granite City spent a year rebuilding the instrument for the basement location and it took four months to install it. Kann purchased the organ for $12,000. Stan Kann and his organ were fixtures in the Ruggeri's dining room for over 20 years.

| | |
| --- | --- |
| | |
| St. Louis Post-Dispatch, December 28, 1956 | |
Ruggeri's became the place to celebrate special occasions. Certificates were mailed out annually for complimentary birthday dinners.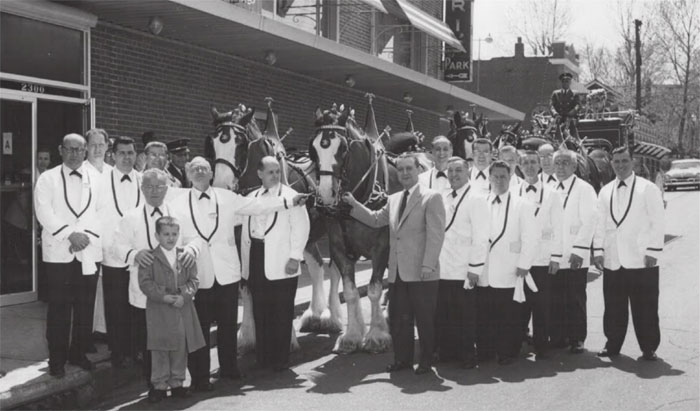 The Ruggeri's staff pose with the Budweiser Clydesdales, 1968
(click image to enlarge)
Henry Ruggeri, Sr. died on February 17, 1961 at the age of 65. Henry Ruggeri, Jr., who had taken over the restaurant's operation from his father, died on April 20, 1975 at the age of 44 after a long illness. Frank Ruggeri, the restaurant's maitre d' for 40 years, died on September 19, 1976 at the age of 64. He had retired two years earlier.
| | |
| --- | --- |
| | |
| Ruggeri's, 2300 Edwards | Henry Ruggeri, Sr. |
The leadership drain was too much for the restaurant. Rumors began to circulate that Ruggeri's was for sale. On May 11, 1980 a "for sale" ad appeared in the St. Louis Post-Dispatch. But there were no buyers for the historic restaurant on the Hill. On Saturday, June 8, 1982 Ruggeri's closed its doors for good.
---
Copyright © 2019 LostTables.com
Lost TablesTM is a trademark of LostTables.com. All rights reserved.