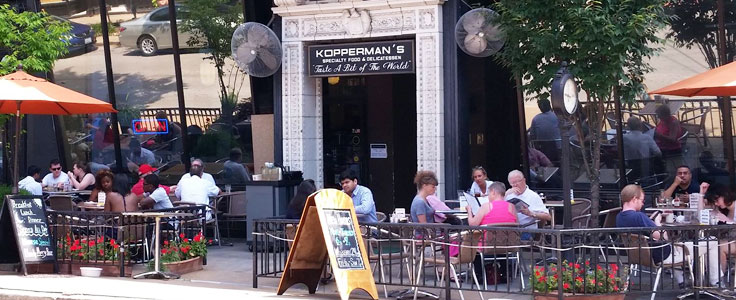 Kopperman's
Max Kopperman was born in 1866 in Jedwabne, Poland. He arrived in St. Louis in 1896, and the following year opened a small kosher meat market at 916 North 7th Street.
In 1917, Kopperman moved his growing business to 1121 Franklin Avenue, just east of 12th Street. The new location was initially known as the House of Kopperman, eventually changing to M. Kopperman Fresh Meats, then to M. Kopperman & Sons, and finally to Kopperman Brothers Delicatessen.
Initially, Kopperman leased the space at 1121 Franklin Avenue for $75 a month. In 1923, he purchased the building for $23,000 and, as the business grew, took over the adjacent 1117 space. The basement and first floor were used for food preparation, as well as his burgeoning retail and wholesale operation. Kopperman and his wife Jennie lived with their family on the second floor, above their business. Sons Gus, Jacob, Isadore and Henry and daughters Sarah, Anna, Celia and Bertha made it unnecessary to hire clerks.
In 1934, Kopperman's got a new neighbor when the St. Louis Globe-Democrat moved its headquarters to a new building at Franklin and 12th Street. With the Globe to its immediate west, the St. Louis Post-Dispatch 6 blocks south and the St. Louis Star-Times putting up a new building a block away in 1938, Kopperman's became the go-to place for hungry reporters, printers and other newspaper employees.
Kopperman's customers also included radio personalities and staffers from KWK, KWGD, KXOK and KSD, all within walking distance, and guests from nearby hotels, all flocking to Kopperman's for kosher sandwiches.
Kopperman's was not the only kosher delicatessen in the neighborhood. One of its competitors was Dunie's, originally opened in 1912 on Franklin at 12th by brothers Nathan and Harry Dunie. Dunie's later moved to 12th and Delmar, in the Hotel McKinley, and then to 13th and Delmar, where it remained open until 1990.

Max Kopperman died in 1939 at the age of seventy. His widow Jennie and his four sons Gus, Jacob, Isadore and Henry continued to run the kosher market at 1121 Franklin into the late 1960s. But as families and businesses moved away from the area, so did customers. Henry's son Myron was offered the business, but he declined. So in February of 1969, the Kopperman brothers retired and sold the building their father had moved to in 1917. The building was razed for parking later that same year.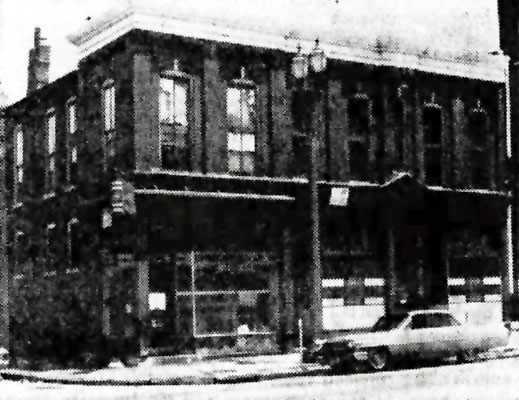 1121 Franklin Avenue - St. Louis Post-Dispatch, Jul 13, 1969
* * * * *
While Myron Kopperman had turned down the offer to take over his family's Franklin Avenue deli, he still had the business in his blood. He had worked at the deli since he was 6 years old, when his job had been to open soda bottles, pack pickles and clean fish.
In December of 1983, Kopperman and his friend Sanford Rich opened a different kind of delicatessen at 386 North Euclid in the Central West End. In addition to the deli food offered by Kopperman's father and grandfather, they offered a larger, more diverse menu, and combined this with an eclectic specialty market. Kopperman and Rich called their new venture "Kopperman's Specialty Food & Delicatessen" with the tagline "Taste A Bit of The World."
The customers who had frequented the strictly kosher deli on Franklin Avenue would have been aghast at the sight of baby back ribs, sausage jambalaya and boiled shrimp sharing space with lox and bagels, chopped liver and kosher tongue at the delicatessen on Euclid.

"My grandfather is probably spinning in his grave over the non-kosher food we serve," Kopperman said.

Myron Kopperman
St. Louis Post-Dispatch, July 11, 1984
Kopperman's Menu (partial), 1984
(click image to enlarge)
Crammed into Kopperman's 1,900 square feet of floor space was seating for 38 people, a 36-foot produce case, 36 feet of wine shelving and a 28-foot deli and specialty foods case. Adjacent to the food case was a three-door freezer stocked with homemade soups and Quezel ice cream. A larger cooler was filled with cakes and fruit pies.

Inside the cases were salads, cheeses, potato pancakes, chicken, all kinds of fish, large slabs of ribs and a variety of smoked meats. Kopperman smoked his own meats, and a slab of ribs was spectacular. There was smoked beef tenderloin, smoked beef brisket, smoked turkey and corned beef sandwiches, on old-fashioned rye bread with caraway seeds.

Inside the main door was a fresh orange juice machine, a freezer case of fresh fruit bars and a convection oven, where croissants were baked each morning. On one side of a checkout counter was a case of roasted nuts, and on the other, an array of tempting pastries. Grocery items from various parts of the country and world were scattered here and there. Kopperman's also stocked 24 different non-alcoholic drinks, 9 domestic brews and 14 imports, 9 specialty drinks and 84 imported wines.

On a visit to Paris, Kopperman and Rich had observed the ubiquitous sidewalk cafes. When they returned, they placed tables and chairs on the sidewalk in front of their Euclid storefront, which met with instant success.

There were over 200 items on Kopperman's menu. Breakfast was served all day, with freshly squeezed orange or grapefruit juice. The menu included cheese blintzes with fresh strawberry preserves, sliced bananas in cream or sour cream, and bananas foster French toast. There was lobster eggs Benedict, eggs with Carnegie deli corned beef, and a Huevos Rancheros omelet with salsa, tomatoes, sour cream and black olives. Almost everything was served with Kopperman's famous spicy cubed hash browns.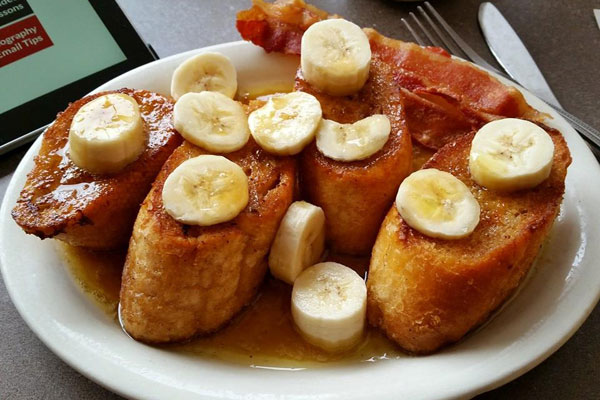 Bananas Foster French Toast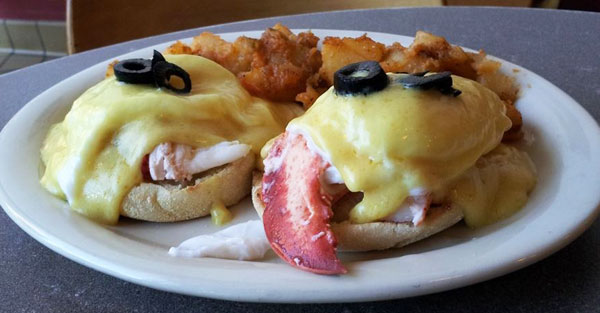 Lobster Eggs Benedict
For lunch or dinner the menu included pastrami, corned beef and beef brisket sandwiches, baby back ribs, wings, and bone-in and boneless chicken breasts. There was matzo ball soup to start and New York style cheesecake for dessert.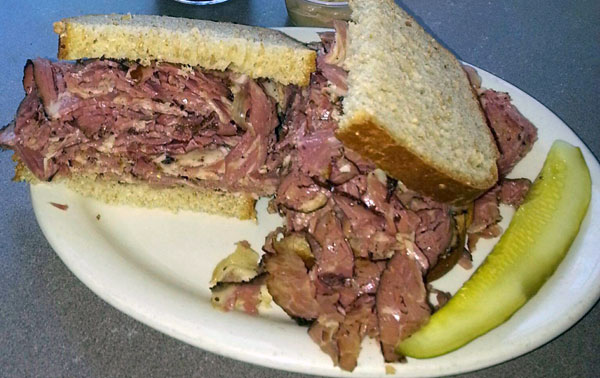 Carnegie Pastrami Sandwich
Topping the list of Kopperman's favorite dishes was chef Martha Triplett's meatloaf. Triplett came to Kopperman's attention when he was looking for a cook who could "do breakfast." She had worked at Bobby's Creole in University City.
"Our manager brought her in," Kopperman remembered. "I didn't know what to ask her because I knew nothing about hiring people. The only think I could think to ask Martha was if she knew how to make fried matzohs. She said, 'Do you want them European style or Russian style?' That's all I needed to know. As far as I was concerned, she was hired."

Myron Kopperman and Martha Triplett
St. Louis Post-Dispatch, August 27, 1989
Sanford and Barbara Rich
St. Louis Post-Dispatch, September 11, 1995
In 1990, Kopperman turned over the reins of the deli to his partner, Sanford Rich, and Kopperman's role became more passive. Rich had been working the financial and marketing side of the business, but he had precious day-to-day experience in his family's Overland Dairy stores.
Under the management of Rich and his wife Barbara, Kopperman's continued to thrive. Over the years, the restaurant side grew to dominate, accounting for 95 percent of the business.

In October of 2013, Rich put Kopperman's on the market. "I'm 66 years old and not getting any younger," he said of his decision to sell.
In July of 2014, Rich sold Kopperman's to Brian Shearrer and Darin Jenkins, co-owners of the Hartford Coffee Company in Tower Grove. Shortly after taking over, Shearrer said, "We were looking to expand . . . (and it) seemed like this might be a good fit. We don't plan to change much. (The facility) needs a little love and attention . . . but we're going to keep the menu, we're going to keep the name, we're going to keep the concept."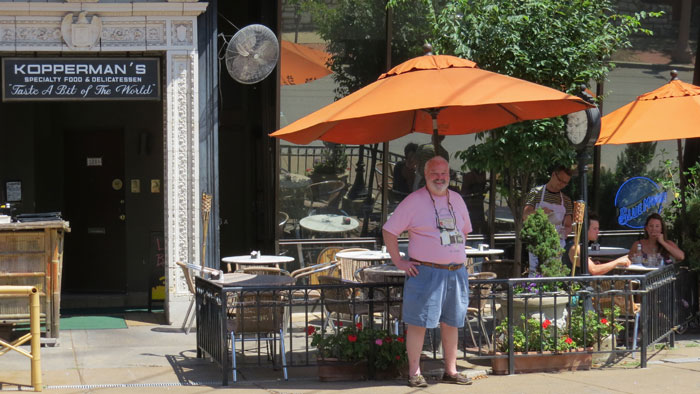 Sanford Rich in front of Kopperman's, 2014
But the menu, the name and the concept only lasted until July of 2016. In an email statement, owners Brian Shearrer and Darin Jenkins wrote, "In February, one of the owner partners experienced a personal medical emergency requiring a substantial ongoing commitment to his own recovery. After months of trying different combinations of hours and staffing, we realize that we cannot sustain operations at Kopperman's. We have decided to close the business effective immediately. We appreciate everyone's patronage over the nearly 34 years we've been open and will miss our many regular customers."
The statement continued, "We're also open to a buyer but could not maintain normal operations while we waited."
There were no buyers.

---
Copyright © 2017 LostTables.com